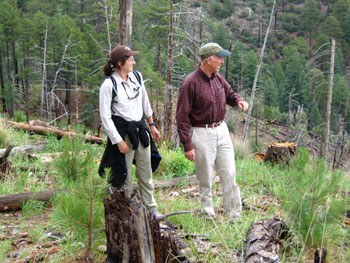 Departmental Faculty
Latin American historian Martha Few studies colonial Guatemala and Mexico, Mesoamerican ethnohistory, the history of medicine and healing, religion, and gender studies. Current projects include
All of Humanity: New World Medical Cultures and the Construction of Western Medicine
and a co-edited book,
Centering Animals: Writing Animals into Latin American History
.
Katherine Morrissey      
kmorriss@u.arizona.edu
Katherine Morrissey's research on the North American West focuses on the region's environmental, social, cultural, and intellectual history. She is currently writing a book on environmental mining conflicts in the early twentieth century, examining the legal, scientific, and political struggles over mining debris and smelter smoke pollution.
An associate professor at University of Arizona-South, J.C. Mutchler teaches graduate courses at the University of Arizona main campus. His academic work focuses on ranching, grasslands and environmental issues in the twentieth-century Southwest.  
Jeremy Vetter
Historian of science Jeremy Vetter recently joined the department.
A former president of American Society for Environmental History, Doug Weiner's teaching and research interests include Russian and Soviet history, environmental history, and the history of science. Among his publications: Models of Nature: Ecology, Conservation and Cultural Revolution in Soviet Russia (1988; 2000) and A Little Corner of Freedom: Russian Nature Protection from Stalin to Gorbachev (2002).
Related Faculty               
The University of Arizona includes an impressive array of scholars who study the environment.  Listed below are some of the faculty members with whom environmental history graduate students have recently worked.
Carl Bauer works on water problems at the intersection of law, geography, and political economy. For 20 years his work has revolved around water rights in the Americas, especially in Chile and the western United States. Most of his experience has been in the areas of water markets; privatization and regulation of water resources; water conflicts and river basin governance; hydropower; and environmental flows. Current research looks at various countries' efforts to combine water markets with environmental flow regimes.
Robert Glennon is actively involved in water resources and policy issues including Colorado River water rights and the legal relationship between surface and groundwater. He has taught constitutional law, American legal history, and water law. His recent water law writings involved interdisciplinary collaboration with hydrologists and economists.
Marc Miller's environmental work highlights topics at the intersection of law and biology, with special attention to the concepts of conservation and sustainability, and to the relationship between science and environmental policymaking and environmental decisions.
Barbara Morehouse pursues research on political, institutional, and cultural aspects of environmental change. Of particular interest is exploring how combinations of policies, practices, and cultural narratives produce particular kinds of influences on and responses to broad-scale environmental change. Much of Morehouse's work has focused on climate impacts on water resources in the U.S. Southwest and the adjacent U.S.-Mexico border region, and on climate-wildland fire issues in the southwestern United States.
Gary Nabhan's research explores agricultural and food biodiversity and related traditional ecological knowledge, their geographic patterns of origin and diffusion as well as loss. His interests include food geography; political ecology; sustainable agriculture and fisheries; biodiversity conservation; ethnobotany; conservation sociology/reconciliation ecology; and local food systems.
Paul Robbins has focused his work on the politics surrounding forestry and the wildlife conservation in Rajasthan, India, a place where some of the last wolves of the subcontinent continue to thrive. His recent research has brought him back to the United States and has focused on the abiding passion of Americans for their lawns and the complexities of elk management policy on the settled fringes of Yellowstone Park. He is author of Political Ecology: A Critical Introduction (2004) and Lawn People: How grasses, weeds, and chemicals make us who we are (2007).
Thomas Sheridan's research interests include contemporary ranching and rural development and the political ecology of ranching in the Southwest. His work involves documentary history and ethnographic studies, with projects focusing on a farming community in northwestern Mexico, Arizona history, the Mexican community in Tucson, the northern and southern frontiers of the Spanish empire in the Americas, and the Seri Indians.
Margaret Wilder's research focuses on the political ecology of water and development in Latin America, water policy and water governance in Mexico, water and equity, and transformations in small-scale agriculture in northwest Mexico and Central America. Her recent research examines the interconnections of climatic change and the vulnerability of water resources in the U.S.-Mexico border region.