Departmental Faculty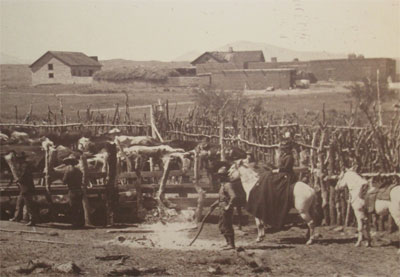 William Beezley teaches and researches in modern Latin American history. Co-director of the Oaxaca Summer institute in Modern Mexican History, Beezley has published widely on the cultural history of Mexico (Judas at the Jockey Club; Mexican National Identity: Memory, Innuendo and Popular Culture) and on twentieth-century Mexico (Mexicans in Revolution, 1910-1946; El Gran Pueblo).
Latin American historian Martha Few studies colonial Guatemala and Mexico, Mesoamerican ethnohistory, the history of medicine and healing, religion, and gender studies. Current projects include
All of Humanity: New World Medical Cultures and the Construction of Western Medicine
and a co-edited book,
Centering Animals: Writing Animals into Latin American History
.
Juan Garcia's research centers on Mexican immigration and community development in the United States, especially before World War II. He has published work on Mexican immigration to the Midwest, the Bracero Program, the deportation and repatriation of Mexicans, and the history of literary and media images of Hispanics.
Kevin Gosner's research interests focus on the colonial history of southern Mexico and Guatemala, especially rural political economy and Maya ethnohistory. Soldiers of the Virgin: The Moral Economy of a Colonial Maya Rebellion, is a study of the Tzeltal Revolt of 1712 in highland Chiapas. His current projects examine the colonial cotton economy, the mobilization of Maya labor (especially women), and the participation of entrepreneurial-minded native elites.
Oscar Martinez examines the political, economic and social history of the U.S.-Mexico borderlands. His publications, including Border People: Life and Society in the U.S.-Mexico Borderlands and Troublesome Border, examine broad themes such as the evolution of the Mexican northern frontier cities, the Mexican Revolution along the border, problem-solving in a transnational context, general conflict in the borderlands, the uniqueness of the way of life of border people, and social change in the Mexican American population.
Katherine Morrissey's research on the 19th and 20th-century North American West focuses on the region's environmental, social, cultural, and intellectual history.  Her related publications include Mental Territories: Mapping the Inland Empire and articles on western women's history, regionalism, cultural representations and environmental change.
An associate professor at University of Arizona-South, J.C. Mutchler teaches graduate courses at the University of Arizona main campus. His academic work looks at ranching, grasslands and environmental issues in the twentieth-century Southwest. 
A scholar of the history of American settlement, Western America, and Indians in American history, Roger Nichols' publications include Indians in the United States and Canada: A Comparative History and Black Hawk and the Warrior's Path. Among his current book projects is a study of Europeans' fascination with American Indians.
Jeremy Vetter
                Jeremy Vetter recently joined the department.
Related Faculty
The University of Arizona includes an impressive array of scholars who study the North American West. Listed below are some of the faculty members with whom history graduate students have recently worked.
Michael Brescia is associate curator of ethnohistory at Arizona State Museum and he teaches courses on Mexico and Spanish borderlands history, and North American History for the History department. His research interests include the legacies of Spanish and Mexican water law in the southwest U.S., religious identities in colonial Mexico, and paleography and translation. He is the co-author of North America: An Introduction (2008).
Geta LeSeur's research in African Diaspora studies includes studies of the lives of Black migrant women. The author of Not All Okies are White: The Lives of Black Cotton Pickers in Arizona, LeSeur is currently working on a monograph of three black migrant women in Arizona's Casa Grande Valley.
K. Tsianina Lomawaima (Creek) is a Professor of American Indian Studies. Her publications include They Called it Prairie Light: The Story of Chilocco Indian School, and several co-authored books including Away from Home: American Indian Boarding School Experiences (2000), Uneven Ground: American Indian Sovereignty and Federal Law, and To Remain an Indian: Lessons in Democracy from a Century of Native American Education.
Sarah Moore teaches American and European Art from the nineteenth and twentieth centuries. She is the author of, among other writings,
John White Alexander and the Construction of National Identity: Cosmopolitan American Art 1880-1915
(2003) and "No Woman's Land: Arizona Adventures," in
Independent Spirits: Women Painters of the American West, 1890-1945
. Her research interests include turn-of-the-twentieth century visual culture of the United States, with an emphasis on national identity, institutional history, and art in the public sphere.
Judy Temple's work focuses on American women's literature, diaries, and Southwestern literature. Her publications include Baby Doe Tabor: The Madwoman in the Cabin (2007) and "A Secret to Be Burried": The Diary and Life of Emily Hawley Gillespie, 1858-1888.