Current Courses   Spring 2012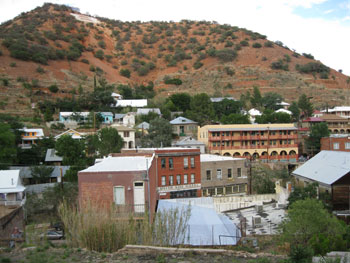 History 396a-3      Nature and Practice of History  T/Th 3:30-4:45
Centennial Commemorations & Arizona History
This spring, Arizona marks its centennial, celebrating the February 14, 1912 declaration of statehood. What should we remember about its history?  How should it be -- and has it been --commemorated? This semester we will explore the history of Arizona and the ways in which that history has been deployed in the public arena. As a required research seminar for history majors, the course is structured to allow students to pursue independent research on an aspect of Arizona history while cooperating with your class members on the more general problems involved in studying state history, public commemoration and collective memory. Core class readings explore different methodological frameworks and provide examples of the use of primary sources. Class sessions will introduce you to primary materials such as private papers, organizational records, maps, city directories, county histories, oral histories, government documents, newspapers, photographs, and material culture.
History 446/546   
History of Arizona and the Southwest
  T/Th 9:30-10:45 
This lecture/discussion course explores the history of the place we know as the state of Arizona. We will consider this place within a series of changing regional contexts--as Aztlan; as the northern Spanish colonial frontier; as Mexico's northern Sonora; as Pimeria Alta; as part of New Mexico Territory; as the American Southwest; as part of the United States West. We will examine the interactions of diverse peoples and environments under changing economic circumstances and shifting political alliances. Together we will read and analyze a range of primary documents, including official documents, images, travel narratives, oral histories, and maps. These fragmentary bits of evidence, often created by people who lived through the experiences they describe or depict, provide a window onto the past. The stories they tell are a mixture of facts, fictions, contradictions, and truths. As historians, our task will be to interpret these materials as we construct our own analyses of the past.
Other Undergraduate Courses regularly taught

History 345           New American West
History 355           U.S. Environmental History
History 438/538    U.S. Cultural History, 1917-1945
History 495f          Topics in U.S. History: Western U.S. Women's History
Other Graduate Courses regularly taught

History 695a        Advanced Topics in American History
Topics of previously taught versions of this graduate readings course:
Borderlands, Culture and Environment         
Intersecting Fields: Readings in 19th- and early 20th-century American History
Narratives of Difference: 19th- and 20th-century U.S. History
Race, Ethnicity and Labor in the American West and South
Recent Scholarship in Western U.S. History
U.S. Environmental History
U.S. History 1840s-1940s: Comparisons in Time and Place
History 696b      Nineteenth-Century American History (research seminar)
History 696c      Twentieth-Century American History (research seminar)